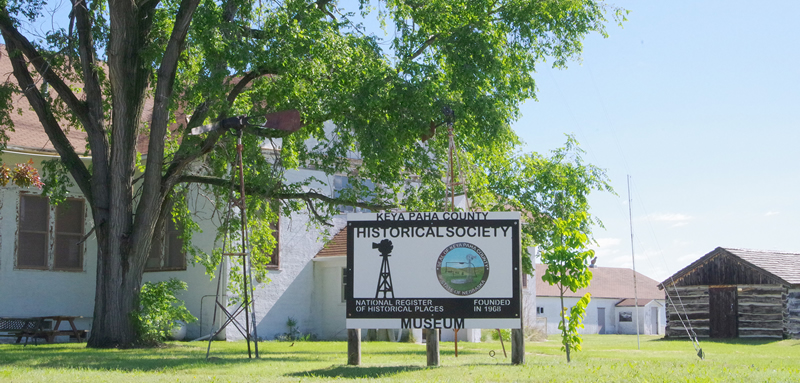 Visit the Keya Paha Historical Society, 210 E Football Avenue in Springview, NE, which showcases the history of Keya Paha County and the communities within it. The museum is open by appointment by contact Jason Orton (402) 925-8314.
In the Beginning…
On the prairies of north central Nebraska sits the small, peaceful village of Springview. It is located in central Keya Paha County between the Nebraska/South Dakota border to the north and the Niobrara River to the south. The town is located on a flat table rising out of the prairie. While the small burg is seemingly quiet and tranquil these days, there is a history that lives up to Keya Paha County's nickname of Mob County.
The area of Nebraska which is now Keya Paha (Native American for "turtle hill") County was largely unsettled until the late 1870's when settlers in search of cheap land began to move into the area to homestead. Keya Paha County was originally part of Brown County, but the people voted that all of Brown County north of the Niobrara River would become Keya Paha County. This election took place on November 4, 1884. Shortly thereafter, the village of Springview was organized.
Land for the village was contributed by four separate landowners. J. F. Carr, Dave Wisemen, Ed Fleming, and a Mrs. Fleming (Ed's mother) each contributed 40 acres to comprise the town of Springview. The name was chosen due to a spring, which was located in the northwest corner of the town.
There was a bitter rivalry between the towns of Burton and Springview to be named the county seat. On March 24, 1885, an election decided that Springview should be the county seat due to its central location within the county.
The county offices were set up in the home of David Heiges, and work on the courthouse began immediately with funding coming from the sale of lots within the village limits. The first courthouse cost $1,126 and was completed in 1886. It was located on the southwest corner of the property where the current courthouse now stands. This building housed the county offices until 1915 when a new courthouse was erected for the total sum of $55,000. It still serves as the county courthouse today.
For over 135 years Springview has been sitting on the prairie offering a place to call home for hundreds of people through the years. Some have stayed on, and some have moved on. Many of the families who live in Springview today can trace their ancestry to the brave souls who pioneered Keya Paha County and made Springview the best place in the world to live.